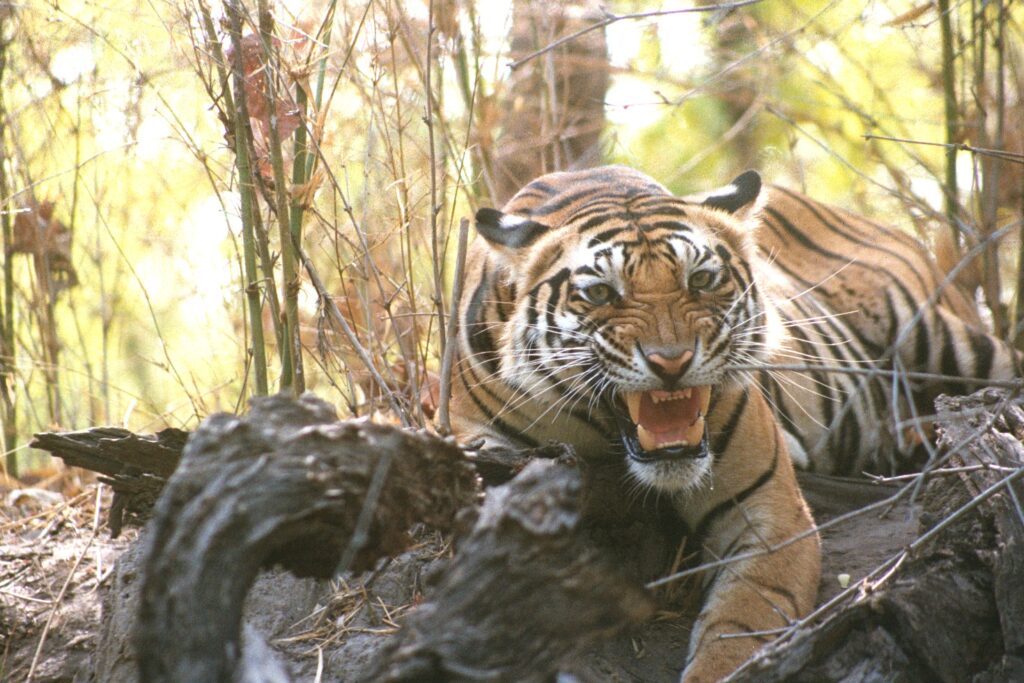 She growled and clawed in the air and I basked in her beauty. The majesty of her strength words cannot describe. Looking back at those moments all that I can remember is her anger and the clicks of my camera. At that moments my heart and my head were at logger head with each for it was a dilemma, whether to click her or just keep admiring. A sight to remember and to capture on film. Welcome to Bandhavgarh National Park.
Bandhavgarh National Park is no ordinary park, it was here that last white tiger was saved from extinction. Though now roar of the such tigers is limited to zoo across the world.The park derived its name from a legend during Ramayana and the name Bhandavgarh meaning "Brother's Fort" said to made for Laxman the younger brother of Lord Rama. This place now is more famous for something else the "The Royal Bengal Tiger"
Bandhavgarh National Park lies in the heart of Madhya Pradesh and once the hunting preserve of the Maharajas of Rewa. BNP in over time has become the real hot spot of seeing wild tigers in close quarters. This is probably only place where tiger sighting is much easier than any other national park. Lot has been written and filmed on the wildlife of Bandhavgarh National Park. This is a main reasons that tigers here are more well known as compared to any other places. Charger the most prolific predator in Bandhavgarh National Park, Sita who become world famous on featuring on the front page of National Geographic magzine. Tigeress like Mohini, S1, S2, S3, Chilly and tigers like B1, B2, B3, and Challenger have made this place for people to visit and admire this place.With recent death of B2, the Tala zone the prime tiger habitat ( read kingdom) now belongs to Bamera Male.
Reaching There :
Bandhavgarh National Park is fairly well connected by Delhi & Mumbai by railways. The nearest railway station is Umaria. Umaria is 32 km aways from village Tala, the entrance to the Bandhavgarh National Park. One can also reach Katni, a junction from where the park is a two hour drive.
It was a trip that I shall forget and shall leave permanent mark on me. By sheer coincidence I met amazing people . Of innumerable visits to different National Parks in India there had been very few occasions where tiger sighting was very few and far. It is not just the tigers that make Bandhavgarh National Park different it the whole eco-system of which this mighty predator is at the peak of the food chain that make Bandhavgarh National Park a unique place.
There various species of birds in BNP and is birder watchers' paradise. Incidently it was here that I first saw colourful Indian Pittah and Paradise Flycataher. In fact after 15 km from leaving Umaria, the scenery starts to change and all signs of urbanization are left behind. Traveling parallel to the park one can sight birds like, Indian Pitah, Golden Oriale, Spotted Owl, Dove, Serpent Eagle, Little Egret etc. Spread over an area of 448 sq. km., Bandhavgarh National Park is situated in Shahdol district among the outlying hills of the Vindhya range.
The Tiger Talks and reaching there :
The closest railhead is the town of Umaria, which is 30 km from Bandhavgarh; it's linked by train to cities in Madhya Pradesh and other states, including Delhi. Private and state owned bus services operate regular buses to Bandhavgarh from Umaria, Jabalpur, and other towns in Madhya Pradesh. Taxis too can be hired to get to Bandhavgarh. The wildlife park's entrance is at a tiny settlement called Tala, which has facilities- although limited- for accommodation.
My 1st date with the Queen
The main entrance is situated on a slightly open area alongside which a small river, Charanganga flows. The moment we entered the park the scenery changed dramatically and the openness gave way to dense forest. From here the road then leads into a small gauge between two hills.
On reaching Amanala, we came across forest guards sitting on one side of the road, chatting and their elephants peacefully munching leaves. It looked perfectly normal but I missed a heartbeat when I was informed that there are tigers just 100 yards from that place, that too four of them, a family with two fully grown up cubs. Quickly climbing onto an elephants, we started moving towards the dense foliage of the jungle.
On the edge of a nullah sitting for a perfect pose was S1, my first Bandhavgarh tigress. The sights and sounds of her, I shall never forget, innumerable clicks followed and I had already exhausted 2 camera rolls. As we moved closer mahout tapped on my shoulder and pointed towards three tigers sitting in a rivulet some distance away. A rare sight indeed, four tigers in one place. As we moved closer to S1 her expressions made it clear that we were not welcome. Her upper lips curled preceding a deep rambling growl, instantly sending a chill down my spine. I could well imagine the plight of the animals who share the jungle with the tigers. This was my closet encounter with a tiger in the wild !
Geography :
At the centre of the park is Bandhavgarh hill, rising 811 mt above sea level. There are a large number of smaller hills separated by gently sloping valleys surrounding the hill.
These valleys end in small, swampy meadows, locally known as 'Bohera'. The lowest point in the park is at Tala (440 mt above MSL).
The vegetation is chiefly of Sal forest in the valleys and on the lower slopes, gradually changing to mixed deciduous forest on the hills and in the hotter, drier areas of the park in the south and west. Bamboo is found throughout.
The terrain is of great rocky hills rising sharply from the swampy and densely- forested valley bottoms. The finest of these hills is Bandhavgarh, sided with great cliffs and eroded rocks, and on its highest point stands Bandhavgarh fort, thought to be some 2,000 years old. Scattered throughout the park, and particularly around the fort, are numerous caves containing shrines and ancient Sanskrit inscriptions.
History :
No records remain to show when Bandhavgarh Fort was constructed. It is thought, however, to be some 2,000 years old, and there are references to it in the ancient books.
The Flora & Fauna :
Rare plants many of thme have medicially value and also flower & flaura is rare The forest of Bandhavgarh can be classified as moist deciduous, and the National Park holds all those animal species which are typical of this habitat in Central India. Certain areas of the park (particularly the south and the west) are drier in character, and hold such species as the Nilgai and the Chinkara.
Sal forest occurs throughout the valleys, giving way to mixed forest which occurs where the soil is of relatively poor quality on the upper hill slopes, on rocky outcrops and in the South and West. Grassy meadow patches occur in the valley and along the nallas. The park is now home to 22 species of wildlife, including the regal 'gaur', umpteen varieties of deer, and carnivores such as the striped hyena, jungle cat and sloth bear and over 250 species of birds. Within the park itself is the Bandhavgarh Fort, now in ruins and largely overrun by the surrounding forest.
In 1947, Rewa State was merged with Madhya Pradesh; Bandhavgarh came under the regulation of Madhya Pradesh. Bandhavgarh National Park lies in the heart of Madhya Pradesh- traditional tiger country.
Although Bandhavgarh is in the area where the famous white tigers of Rewa were first found and saved them from total extinction. Here there is an amazing diversity of flora and fauna which can certainly make a trip to this wildlife preserve utterly worthwhile.
No two tigers have the same pattern of stripes and therefore it is easy to identify them and even give them name. All tigers in the tourist zone of the park have names. Starting from tiger by the name of Charger, B1, B2, B3, Chalenger and tigress by the name Sita,S1, S2, and S3 and Chilly. The most famous of all the big cats of Bandhavgarh was Charger, whose dread was spread far and wide.
Wildlife :
The artiodactyls frequently sighted are Wild Pigs, Spotted Deer, Sambar, Chausingha, Nilgai, Chinkara and Gaur. Mammals such as Dhole, the small Indian Civet, Palm Squirrel and Lesser Bandicoot Rat are seen occasionally.
The vegetation along streams and marshes is rich in bird life. The common ones are Little Grebe, Egret, lesser Adjutant,Indian Pitah, Paradise Flycatcher, Sarus Crane, Black Ibis, Lesser Whistling Teal, White-eyed Buzzard, Black Kite, Crested Serpent Eagle, Black Vulture, Egyptian Vulture, Common Peafowl, Red Jungle Fowl, Dove, Parakeets, Kingfishers and Indian Rollers. Reptilian Fauna include Cobra, Krait, Viper, Rat-snake, Python, Turtle and a number of lizard varieties, including Varanus. Within the bounds of the Bandhavgarh National Park, vehicles may be hired at the entrance to drive around; in addition, private vehicles are allowed in.
Best time to visit :
Like many of India's other wildlife preserves, national parks and sanctuaries, Bandhavgarh National Park too closes for visitors during the monsoon months, July to October. Between November and June is the best- and only-time to visit the park.
Suggestes tour option
Explore Bandhavgarh
7 Nights / 8 Days
Day 01 : Leave for Bandhavgarh National Park, by 2AC train.
Day 02 : Arrive at Umaria/Katni – the railhead for Bandhavgarh National Park. Check in to the Tiger Den's Resorts & get ready for the evening game drive. Bandhavgarh has a very good population of wild tigers and there are very good chances of seeing one.
Days 03 – 04 : Morning and evening game drive in Bandhavgarh National Park. Spend the day viewing game inside the Jungle, Elephant safaris can be arranged to view wildlife. Elephants are much better to go to those areas not possible by Jeep Like Kanha, in Bandhavgarh also deers can be seen along the grasslands
Days 05 – 06 : Morning and evening game drive in Bandhavgarh National Park. Spend the day viewing game inside the Jungle, Elephant safaris can be arranged to view wildlife. Elephants are much better to go to those areas not possible by Jeep Like Kanha, in Bandhavgarh also deers can be seen along the grasslands
Day 07 : In morning go for Jeep Safari and return for lunch. Leave for Delhi by train in the evening.
Day 08 : Reach Delhi by afternoon. Go straight to a good restaurant for lunch, after lunch drive to International Airport to catch a flight back to your next destination.
Sharad Khanna
www.indianwildlifeadventures.com
Breakfast Time My Dear
Pick A Boo