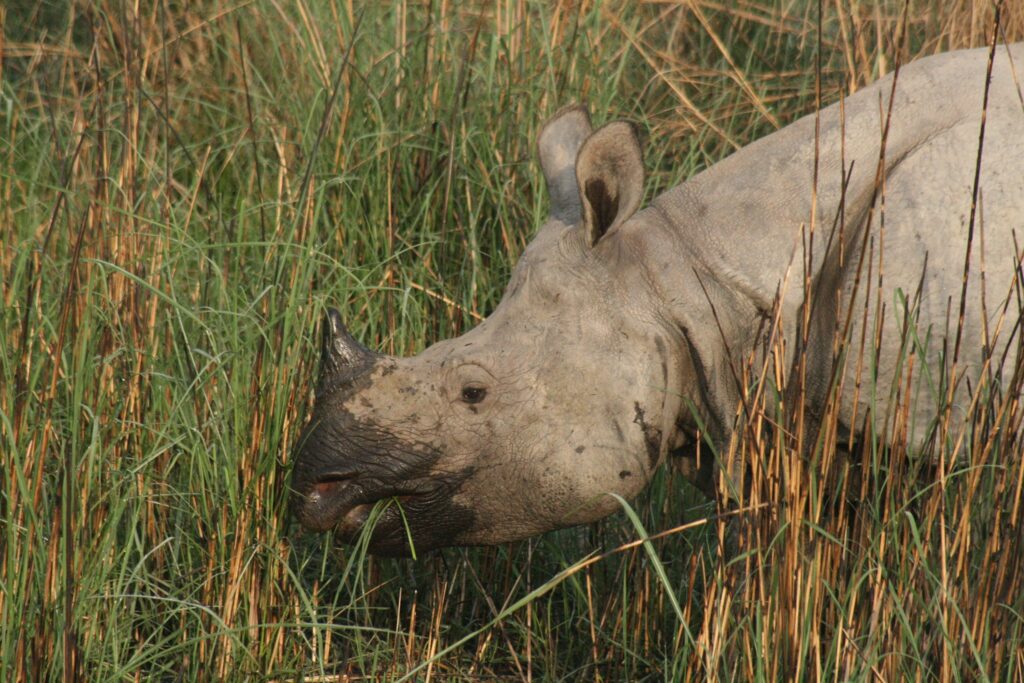 Places Covered : New Delhi – Kaziranga – Manas – New Delhi
About The Places and their highlights
NEW DLEHI : Light birding upon arrival to set the pace for India's Big 5 trail. Places which can be covered are : Sultanpur National Park : Located 37 km from New Delhi or Okhla Bird Park in NOIDA area. The park is home many resident and migratory birds. The park is open to birding from October to June every year. Reaching there takes about 60 – 90 minutes from New Delhi City Centre (depending on the city traffic)
KAZIRANGA : the entire spectrum of habitat types prevalent in the Kaziranga area. (though Brahmaputra view is not available but a stretch of the route goes by the tributary river Difloo) There is a possibility of sighting elephants as well as the other big animals especially the swamp buffalo and of course the rhino. In the extensive short grass yards next to the wetlands the rare Swamp Deer.groups can be seen easily.Technically Swamp Deer is more endangered than the Asian one-horned rhino as far as world population is concerned. Birding in a wide range of habitats. Birding look for look for Pallas Fish Eagle,.Lesser Adjutant,,Swamp Francolin,,Spotbilled Pelican etc.Also other waterbirds such as Barheaded Goose, Grey headed Lapwing, Blacknecked Stork etc
MANAS : Has one the largest patch of grassland that can be found in Assam (even in Kaziranga such a huge grassland area cannot be seen) The highlight of this afternoon is to sight florican from the tower at Kuribeel. travel on the Bansbari-Uchila road chances of seeing grassland species like Jordan's Babbler and Chestnut capped Babbler Rufous-necked Laughing Thrush Prinias In the patch of Woodland near Uchilla camp good birding engagement will result in Green footed Imperial pigeons, Sultan tit, Long tailed broad bill and of course the . Great and Pied Hornbill.
Inclusions  
1.  The Jungle safari in 4x4 open top jeep and the duration the safari is approximate 3 hours. 
2.  Breakfast, Lunch and & Dinner (On buffet basis & when transiting packed or meal at a local restaurant)  
3.  Accommodation on single or double / twin sharing basis per room 
4.  All Jungle entrance and guide charges 
5.  All India internal air transfer 
6.  Airport pick and drop from various locations 
7.  AC Toyota car for travelling from one location to another. Wherever possible even Indian Railways train can be also used (for convenience and comfort)
Exclusions :  
1.  Personal expenses 
2.  Tips and Gratuities 
3.  Anything not included in inclusions and tour plan. 
Suggested Tour Plan
Day 1 : New Delhi : Arrive in New Delhi and transfer to a hotel. Overnight in a hotel in New Delhi.
Day 2 : New Delhi – Kaziranga : Take early morning flight to Guwahati. Option of doing some birding in the Guwahati area and leave for Kaziranga post lunch. Arrive by evening and check in a wildlife lodge. Overnight in the wildlife lodge.
Day 3 : Kaziranga :  Morning and Afternoon Jungle safari. Overnight in the wildlife lodge.
Day 4 : Kaziranga : Morning and Afternoon Jungle safari. Overnight in the wildlife lodge.
Day 5 : Kaziranga : Morning and Afternoon Jungle safari. Overnight in the wildlife lodge.
Day 6 : Kaziranga – Manas: Early morning jungle safari. Return to the lodge for Breakfast, after breakfast drive to Manas. Arrive by lunch and rest. 
Day 7 : Manas : Morning and Afternoon Jungle safari in Manas National Parl. Overnight in a lodge in Manas.
Day 8 : Manas : Morning and Afternoon Jungle safari in Manas National Parl. Overnight in a lodge in Manas.
Day 9 : Manas - New Delhi : Morning Jungle safari in Manas National Parl. Return to the lodge for breakfast and drive to Guwahati. Take evening flight to New Delhi.Transfer to a hotel in New Delhi.
Day 10 : New Delhi : Transfer to International Airport. TOUR ENDS 
Contact Us by Email at : indianwildifeadv[email protected] or Call us (WhatsApp ) Number : +91-9810246902