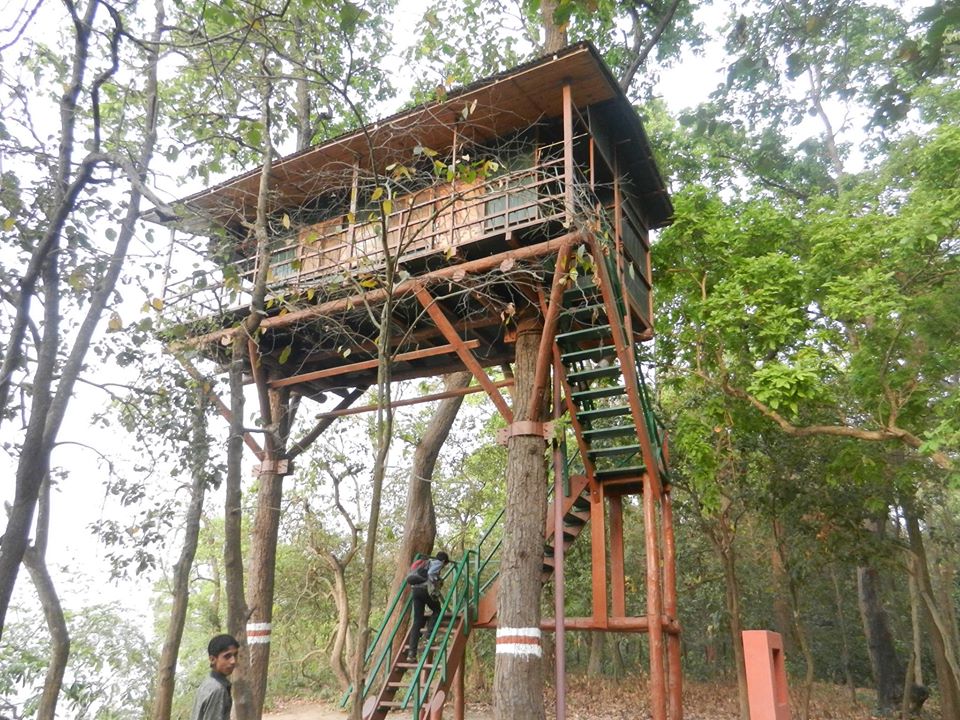 Spreading across two countries, an area of about 810 km stretch covering about 49500 km2, between India and Nepal, Terai Arc Landscape (TAL). It is called Arc as it's stretch is flood plains along the Himalayas foothills and flood plains. It has a very diverse and incredible rice floura and fauna. The Arc has some of India most well known wilderness places. Be it Corbett, Rajaji, Dudhwa or Valmiki ( National Parks and Tiger Reserves) or Sukhla Phanta WLS, Bardia WLS, Chitwan NP. All these places is a heaven for bird watchers across the world.
Places Covered : New Delhi – Pilibhit – Dudhwa NP – Corbett New Delhi. Places in Nepal can also be included as per interest to visit these places.
Places in Nepal can also be included as per interest to visit these places. If visiting Nepal then for some countries visa might be required. For Indians visiting Nepal, Passport or Election Card is required in original to visit Nepal. Kindly check on the visa formalities for both India and Nepal before travel.
About the places planned for the trail are given below, followed by a suggested tour plan, however we can further customise the tour plan as per time available and destination of interest.
New Delhi : Light birding upon arrival to set the pace for the incredible North East India New Delhi : Light birding upon arrival to set the pace for the incredible North East India trail. Places which can be covered are : Sultanpur National Park : Located 37 km from New Delhi is the Sultanpur. The park is home many resident and migratory birds. The park is open to birding from October to June every year. Reaching there takes about 60 – 90 minutes from New Delhi City Centre (depending on the city traffic )
Dudhwa Nation Park, a tiger reserve is located adjacent to Indo-Nepal border, Dudhwa longwith with other nature jewels on both side of the border forms most incredible areas of wilderness to represent the excellent natural forests and greenery along the Terai region.
Kishanpur Wildlife Sanctuary : Is not far from Dudhwa hence a must visit for Swamp DeKishanpur Wildlife Sanctuary : Is not far from Dudhwa hence a must visit for Swamp Deers. Here beholding the nature lovers with marshes, grasslands and dense forests, and a very healthy population of Swamp Deerand Tigers species. Being Terai aread, rivers play a very dominating role in the place's habitat, here the park has a large tract of alluvial plains of tributaries of Suheli and Mohana.
Katerniaghat Wildlife Sanctuary, is a typical Terai habitate having forests corridors connected with Dudhwa, Kishanpur in India and Bardia National Park of Nepal. The forests are a forest corridor with Dudhwa and Kishanpur in India with Bardia & Bandke National in Nepal. The forests are a mosaic of teak and Sal forests, swamps, wetlands & lush grasslands hosting inumerabale bird and animal life.
Pilibhit : Not very far from the Nepal border, Pilibhit National Park, a hidden jewel of nature having a large tracts of Sal forests. There is a hugh lake formed due to The Sharda Sagar Dam, making is a ideal place for bird watchers. The Park lies in the foothills of the Himalayas and now an important part of Terai Arc Landscape.
Corbett : What to say about Corbett, it is a perfect forest with many different habitat include Terai area. It is also known as the Land of Roar, Trumpet and Song, due to a healthy populations of Tigers, Elephants and Birds. Terai Arc Landscape starts from Rajaji National Park not very from Corbett.
All these places are home to the following Fauna and flora
Tiger, Leopard, Rhinoceros, Elephant, Swamp deer, Sambar deer, Spotted deer, Hog deer, Barking deer, Jungle Cat, Fishing Cat ,Wild boar, Blue bull, Rhesus monkey, Langur, Sloth bear, Porcupine, Otter, Moniter lizard, Turtles, Python, Mugger, Gharial etc.,
Birds : Approximately 600 species of birds are found in the Terai Region. Some of them are : Great Indian Hornbill, Pied Hornbill, Grey Hornbill, Swamp Partridge, Red Jungle Fowl, Pea Fowl, Bengal Florican, Fishing eagle, Serpent eagle, Osprey, Wood pecker, Shama, Indian Pitta, Paradise flycatcher, Orioles, Emerald Dove etc. In winter months the waterbodies is full to capacity with migratory birds that make these wetlands and water bodies as their home, thereby giving nature lovers and photographers an excellent opportunity to observe & photograph them as well.
Inclusions :
a) Accommodation in India as the tour plan
b) Transfer : All land transfers in India and Nepal.
c) Airport pick and drop
d) Travel between National Park and Wildlife Sanctuary
e) Meals : One full cycle of meal i.e. Breakfast / Lunch & Dinner per day. Buffet meals would be served.
f) At many places the lunch would be picnic or meals in a eatery enroute to the next destination
g) Jungle Safaris in open top jeep as per the tour plan
h) All guide and jungle entrance charges

Exclusions :
a) International Air Tickets,
b) Any personal expenses
c) Any Tipping or gratuities.
d) Anything that is not included in the inclusions and tour plan.
Suggested Tour Plan : New Delhi - Pilibhit - Shulka Panta WLS ( Nepal) - Bardiya NP (Nepal) - Dudhwan NP - Corbett New Delhi
Detail Tour Plan  :
Day 1:    New Delhi :  Arrive in Delhi. Overnight In New Delhi.
Day 2:   Dudhwa  : Drive to Dudhwa National Park. Arrive at the resort by lunch.  Afternoon Jungle safari and exploring the the wild Sal forest of Terai. Return by evening, Free time till Dinner. Overnight in the wildlife lodge / resort. 
Day 3 : Dudhwa :  Early morning jungle safari ( Pre breakfast ), through the interiors of Dudhwa Exploring the wild sal forest of Dudhwa, tracing tigers and other wildlife. OR visit the Rhino area preferably on Elephant back. Breakfast at the lake side. Post Breakfast a short drive and back to Resort. Lunch will be served at the resort. Post Lunch yet another jungle visit on Open Jeep to Kishanpur Wildlife Sanctuary. Tea at the Machan/Tree top, Later Dinner and overnight at Resort.
 Day 4. Dudhwa : Early morning jungle safari pre-breakfast at 0630 hrs we shall set out for a morning Jeep/Tiger Safari through the interiors of Dudhwa Exploring the wild sal forest of Dudhwa, tracing tigers and other wildlife. Breakfast at the lake side. Post Breakfast a short drive and back to Resort.Lunch will be served at the
resort. Post Lunch yet another jungle visit on Open Jeep to Kishanpur Wildlife Sanctuary. Tea at the Machan/Tree top, Later Dinner and overnight at Resort.
 Day 5 : Dudhwa :  This is a full day safari : Itinerary Today pre-breakfast at 0630 hrs we shall leave for Katerniaghat Wildlife Sanctuary (90kms/2.5hrs) with packed breakfast and Pack Lunch. Jeep/Tiger Safari through the interiors of Katerniaghat, tracing tigers, Leopards, Rhino, swamp deer and other wildlife followed by Boating in the Gerva/karnali river to check out the Gharials and maybe a glimpse of the Gangetic Dolphins. Back to the rest house for Lunch.Post Lunch yet another jungle visit on Open Jeeps. Back to Rest House for tea, and leave for Resort later
dinner and Overnight at Wildlie lodge / Resort.
Day 6 : Dudhwa : Morning Jungle safari, return to the lodge for breakfast and rest. After lunch go for afternoon jungle safari. Return by evening and relax. Dinner, and Overnight in the wildlife lodge in Dudhwa National Park.
Day 7 : Dudhwa - Pilibhit : Morning Jungle safari, return to the lodge for breakfast. After breakfast drive to Pilibhit  arrive by lunch. Check in the wildlife lodge / Eco lodge . Spend some relax time at the Chuka Eco Tourism Rest houses area or go for a afternoon jungle safari. Dinner . Overnight in Pilibhit National Park.
Day 8:  Pilibhit :  Early Morning Jungle safari, return for breakfast and rest. Lunch in the afternoon and then leave for afternoon jungle safari. Overnight in Pilibhit National Park.
Day 9 : Corbett : Early morning jungle safari in Pilibhit, return for breakfast. After breakfast check out and drive to Corbett National. Check into forest lodge for which a trek of 2 to 3 km simple trek is required. ( Luggage would be carried by the porters).
Day 10 : Corbett : Early morning jungle trek and look out for the birds. Picnic breakfast and return to the lodge lunch. After lunch do birding by the river. Dinner. Overnight in the jungle lodge
Day 11 : Corbett : Early morning jungle trek and look out for the birds. Return by breakfast and trek back to civilisation !. After a trek of about 2 - 3 km arrive at the pick up point, drive to Dhikuli area and check into a wildlife hotel. After lunch leave for afternoon jungle safari in Corbett National Park, do birding safari. Return in the evening. Dinner and Overnight in the wildlife lodge.
Day 12 : Corbett : Morning Jungle safari in Corbett, return by breakfast. Rest and relax till lunch time. After lunch leave for afternoon jungle safari in Corbett National Park, do birding safari. Return in the evening. Dinner and Overnight in the wildlife lodge.
Day 13 : Corbett : Morning Jungle safari in Corbett, return by breakfast. Rest and relax till lunch time. After lunch leave for afternoon jungle safari in Corbett National Park, do birding safari. Return in the evening. Dinner and Overnight in the wildlife.
Day 14 : Corbett : Early morning breakfast and drive to New Delhi. Lunch Enroute and check into a hotel upon arrival in New Delhi. Overnight in New Delhi.
Day 15 :  New Delhi : Transfer to Airport. TOUR ENDS
Contact Us by Email at : [email protected] or Call us (WhatsApp ) Number : +91-9810246902